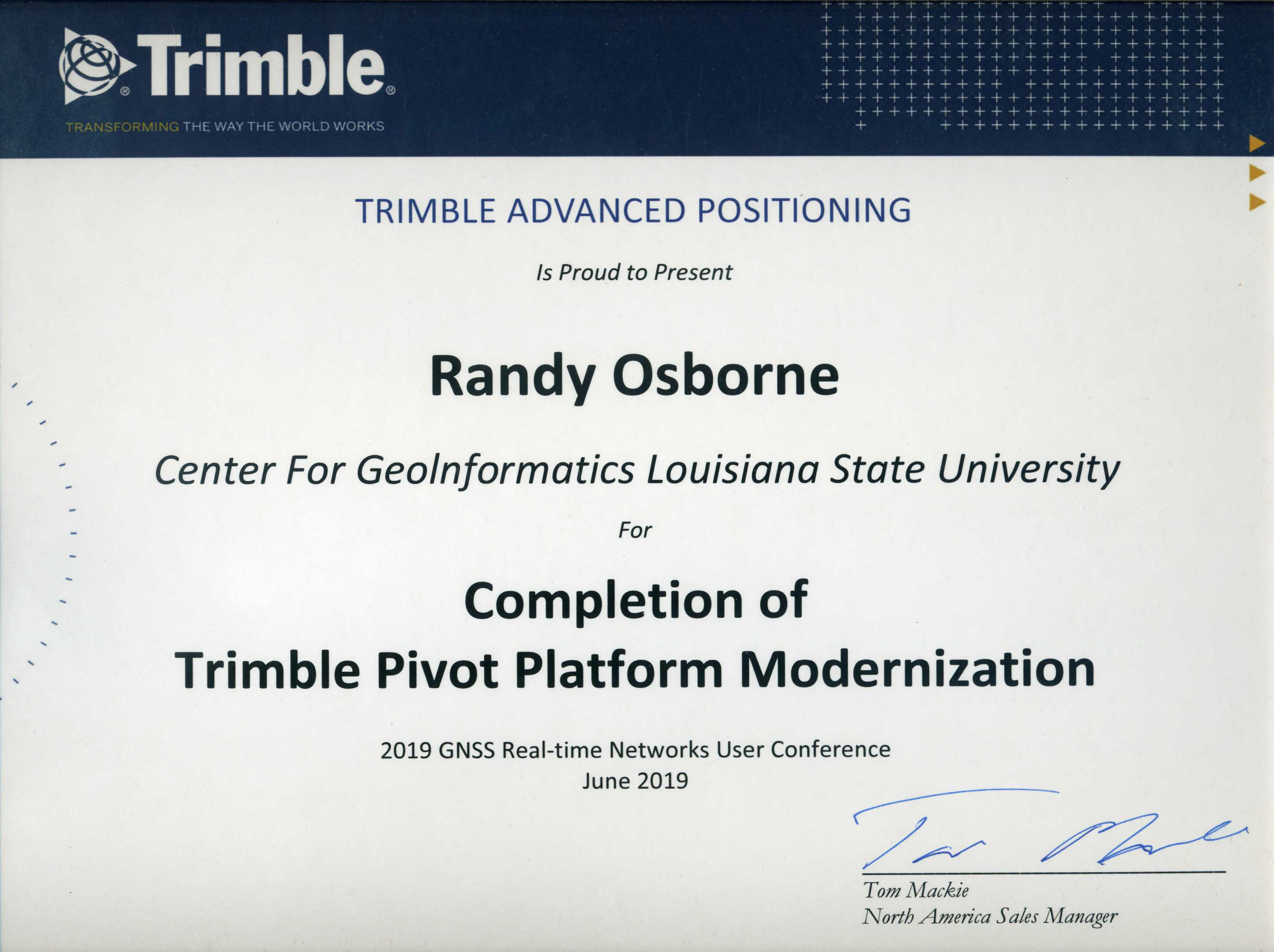 At the Trimble Real-Time Networks User Conference in Columbus, Ohio, this past June, Randy Osborne, network manager, received a certificaterecognizing the LSU Center for GeoInformatics' real-time network. This certificate recognized the efforts C4G made to modernize the network, implementing the latest Trimble Alloy GNSS reference receivers and taking advantage of the applications made available through the Trimble Pivot Platform. "The LSU team has invested a great deal of time into ensuring their network provides the absolute best products to its GIS, agricultural and surveyor users," said Alex Ngu, technical sales engineer at Trimble Real-Time Networks. "Their commitment to hosting a completely modern network will provide countless benefits to the work they and their users are conducting."
The Center for GeoInformatics (C4G) deploys and maintains a statewide network of continuously operating reference stations (CORS) used for advanced positioning and subsidence monitoring throughout Louisiana. In partnerships with neighboring states along the Gulf Coast, C4G provides continuous raw data from select CORS for height modernization to improve the National Geodetic Survey's National Spatial Reference System. This Gulf Coast-wide network of CORS is the foundation of GULFnet and the raw data from all of these CORS are distributed free of charge to the public. A subset of GULFnet CORS is also distributed to NGS for use in their NOAA CORS program which uses this data to produce OPUS solutions throughout the Gulf Coast Region. C4G uses highly specialized software developed by Trimble to provide many value-added services to subscribers, one of which is known as the C4Gnet Real-Time Network.  C4Gnet Real-Time Network provides advanced positioning solutions to subscribers for a wide variety of applications in Real-Time and C4G is committed to providing these services at the highest possible level.
To learn more about C4G, you can visit the C4G website or follow C4G on Twitter, Facebook or the C4G YouTube channel. Please sign up for the C4G mailing list if you want to be notified about C4G related outreach events.